Upcoming Lectures
More coming soon!
Past Lectures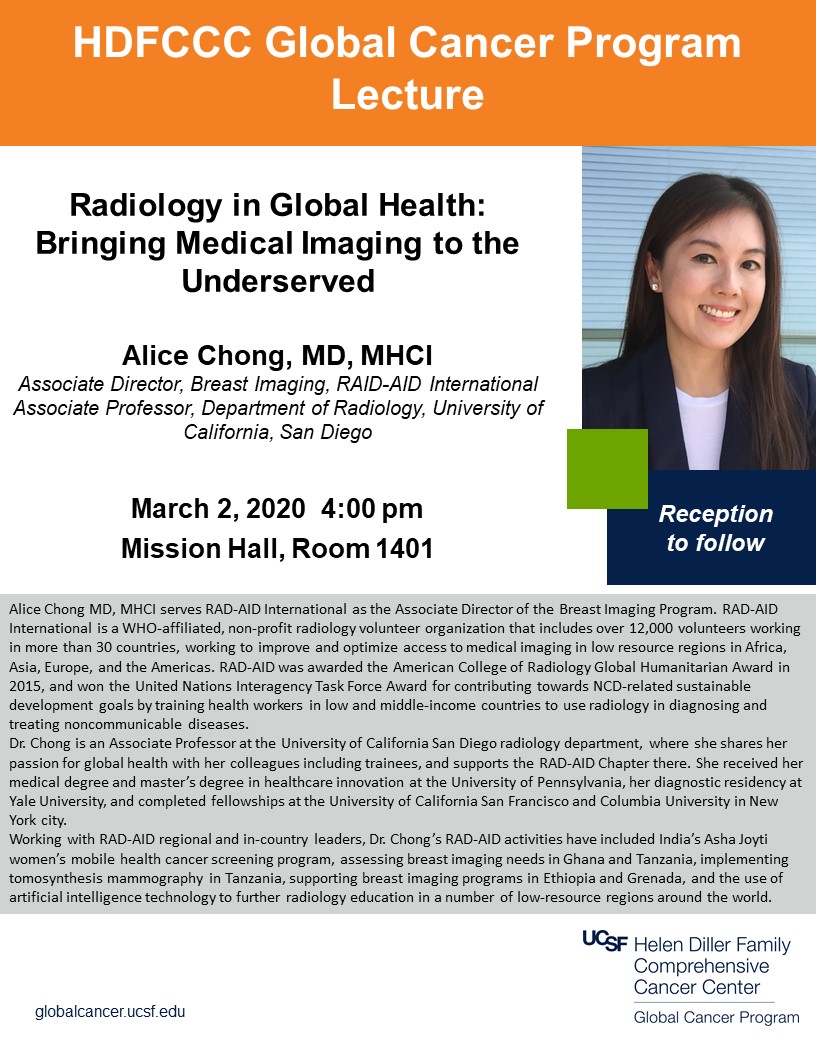 Dr. Alice Chong: Radiology in Global Health: Bringing Medical Imaging to the Underserved 
 March 2, 2020 | [Watch archived lecture]
Dr. Nimmi Ramanujam: From Cell Ecosystems to Global Ecosystems: Tackling Cancer from Different Angles
 February 5, 2020 | [Watch archived lecture]
 D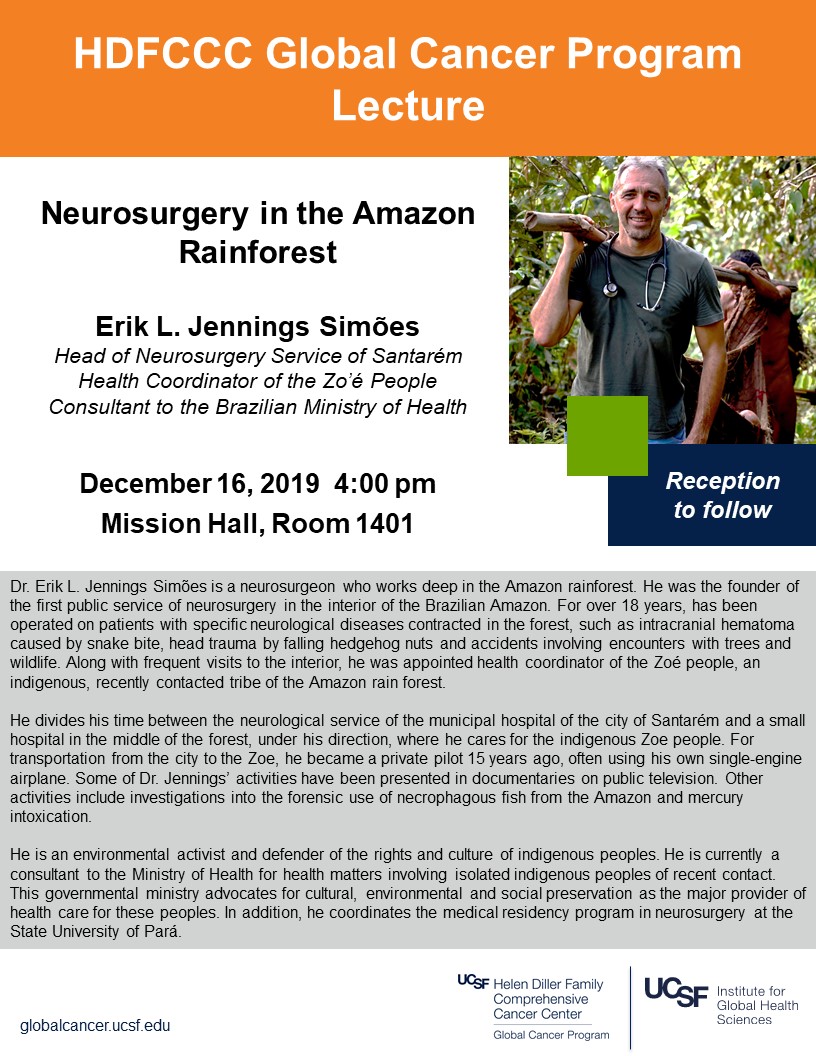 r. Erik Simoes: Neurosurgery in the Amazon Rainforest: Providing Voice and Care for Newly-Contacted Communities
 December 16, 2019 | [Watch archived lecture]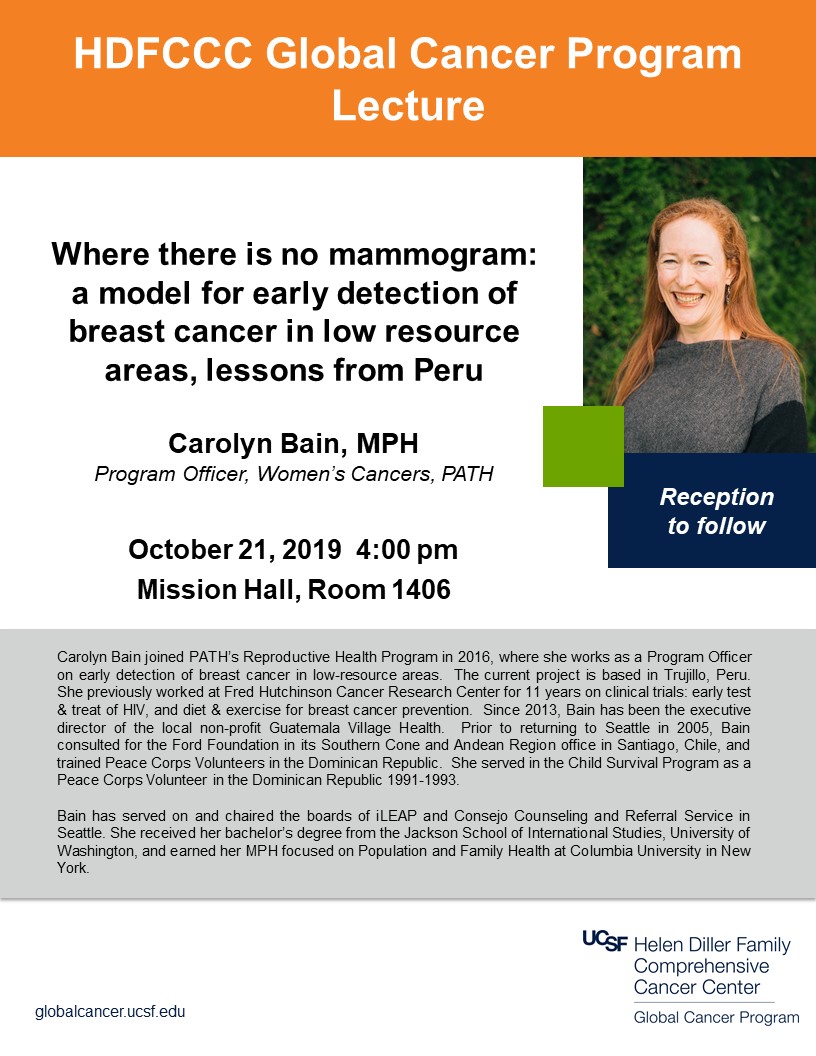 Where there is no mammogram: a model for early detection of breast cancer  in low resource areas, lessons from Peru
 October 21, 2019 [see slides here]
Improving Cancer Prevention and Access to Care in Belize and the Caribbean Region: A Discussion with Mrs. Kim Simplis Barrow, First Lady of Belize; Chair, Spouses of CARICOM Leaders Action Network (SCLAN)
May 16, 2019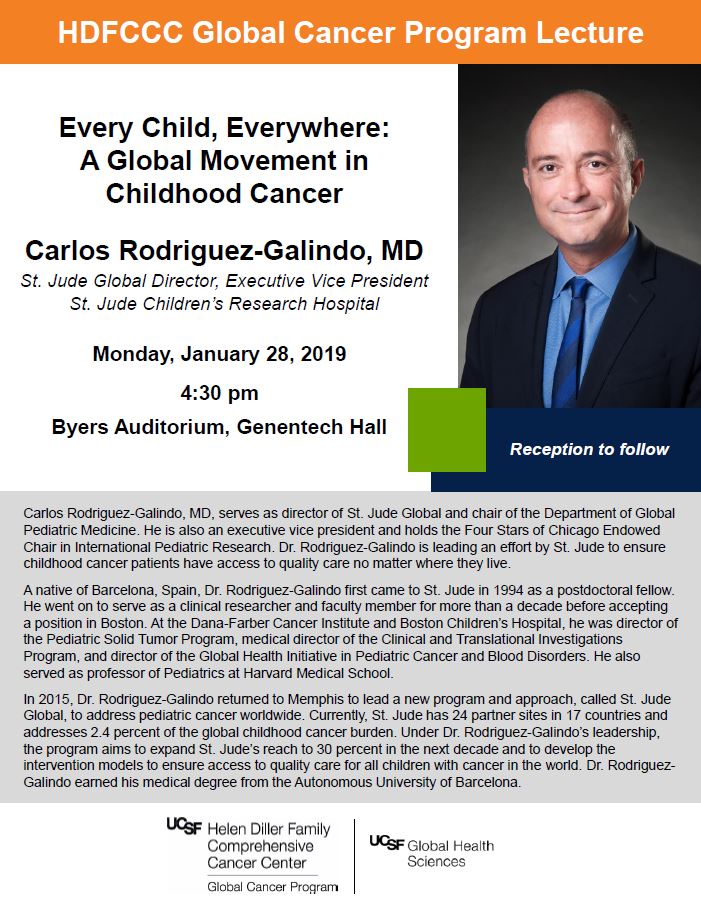 Every Child, Everywhere: A Global Movement in Childhood Cancer 
Carlos Rodriguez Galindo, MD, St. Jude Global Director, Executive Vice President St. Jude Children's Research Hospital
January 28, 2019 [watch archived lecture]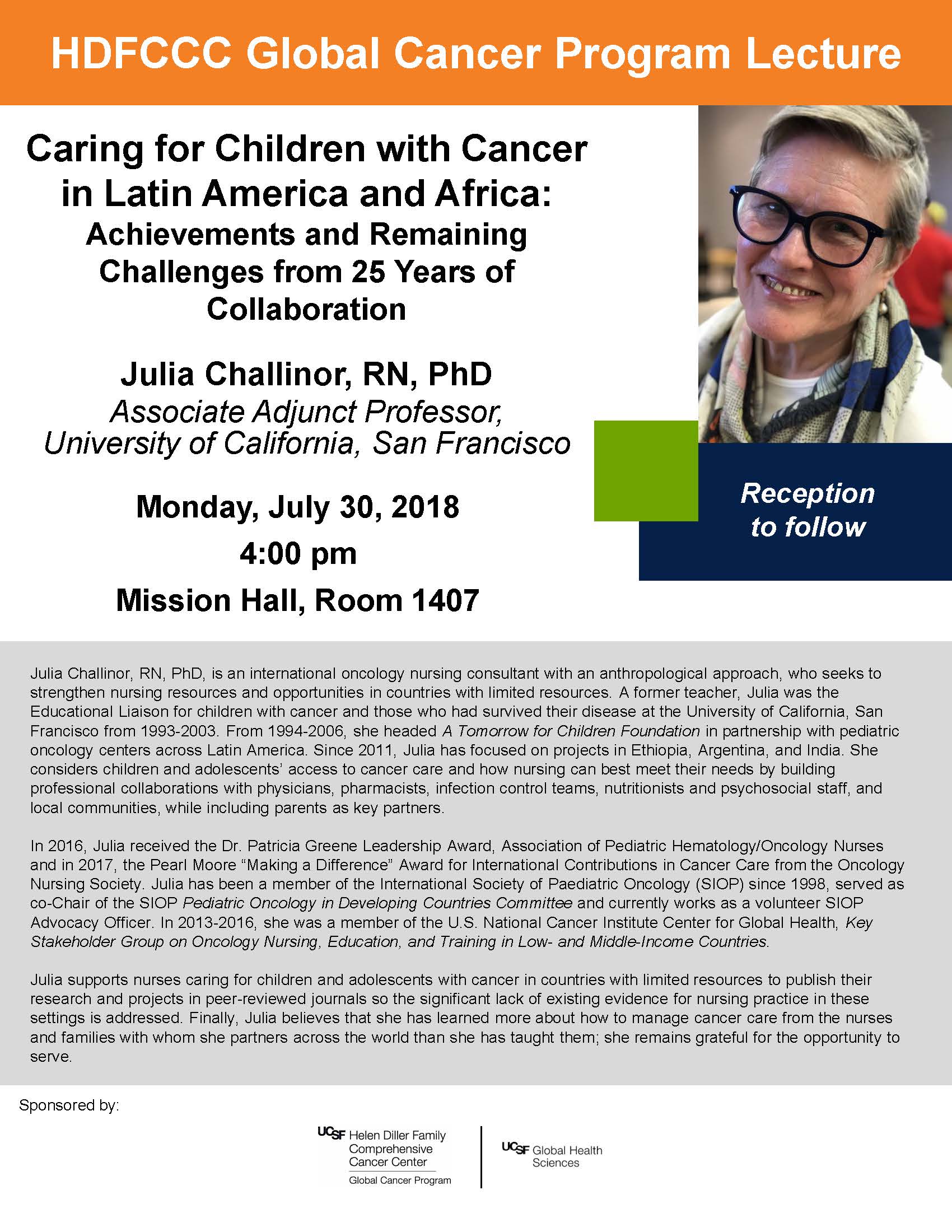 Caring for Children with Cancer in Latin America anc Africa: Achievements and Remaining Challenges from 25 Years of Collaboration
Julia Challinor, RN, PhD, Associate Adjunct Professor, UCSF
Monday, July 30, 2018 [watch archived lecture]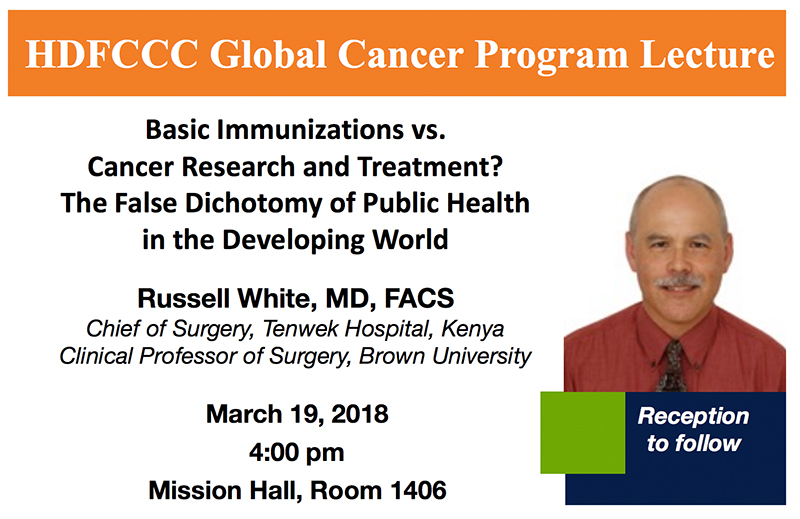 Basic Immunizations vs. Cancer Research and Treatment? The False Dichotomy of Pyblic Health in the Developing World
Russell White, MD, FACS, Chief of Surgery, Tenwek Hospital Kenya, Clinical Professor of Surgery, Brown University
March 18, 2018 [watch archived lecture]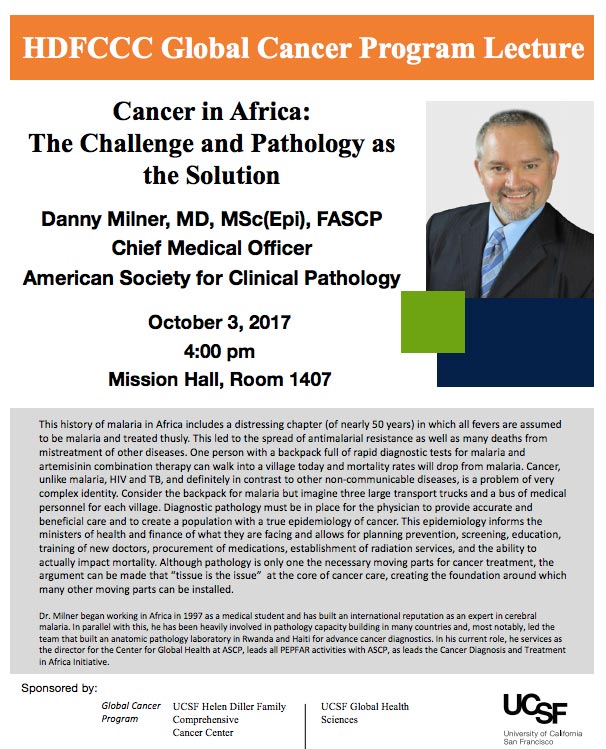 Cancer in Africa: The Challenge and Pathology as the Solution
Danny A. Milner, Jr., MD, MSc (Epi), FASCP, Chief Medical Officer, Americal Society for Clinical Pathology
October 3, 2017 [watch archived lecture]
Phased Implementation: A Novel Strategy for Applying Breast Cancer Guidelines in LMICs
Benjamin O. Anderson, MD, FACS, Chaire and Director, Breast Health Global Initiative (BHGI), Director, Breast Health Clinic, Seattle Cnacer Care Alliance
June 12, 2017 [watch archived lecture]
Addressing the Global Need for Cancer and Non-Communicable Disease Care: From Gap to Vision to Implementation
C. Norman Coleman, MD, Senior Scientific Advisor, International Cancer Expert Corps, Inc.
May 15, 2017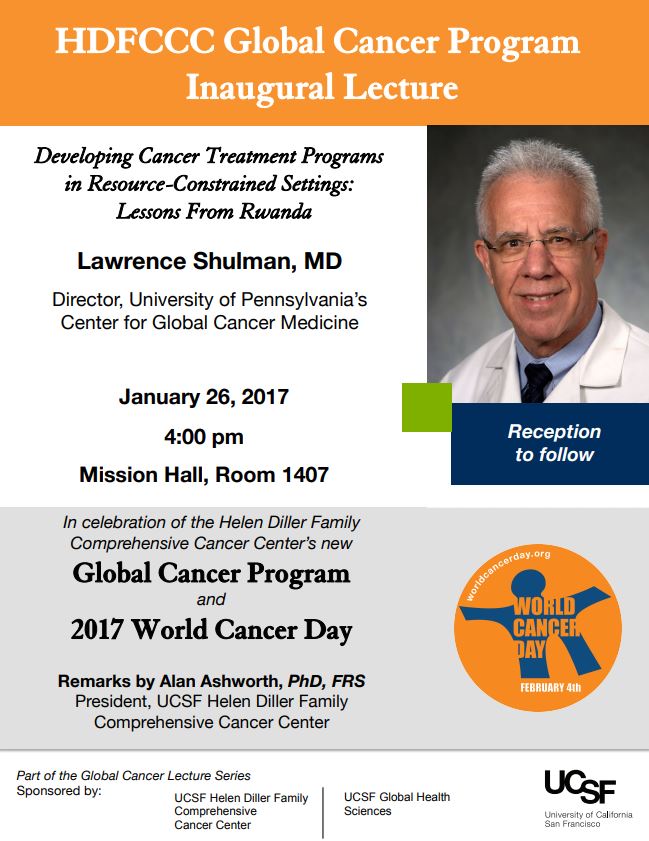 Developing Cancer Treatment Programs in Resource-Constrained Settings: Lessons from Rwanda
Lawrence Shulman, MD, Director, University of Pennsylvania Center for Global Cancer Medicine
January 26, 2017