2022-2023 Global Cancer Program Fellows
David Ayangba Asakitogum, MPhil, RN is a UCSF SON scholor, studying his PhD in nursing. He received his nursing diploma from Bolgatanga NTC, masters in nursing at University of Ghana, and a certificate in Leadership and Managment in Health at the University of Washington. His experience includes working as a nurse clinician and nurse educator in rural districts in Ghana, became a women's health advocate on Malaria in Pregnancy Prevention, HIV PMTCT, Cervical cancer awareness creation, and promoted adolescents' sexual reproductive health policies. Asakitogum's interest in oncology started when he took obstetrics and gynecological studies in college, where this shaped his research interest in cancer care and prevention with an emphasis on the quality of life of patients with gynecological cancers. His previous research includes cervical cancer, screening practices, traditional and orthodox care, and management modalitie. The UCSF Global Cancer Fellowship will support him with his research goal to develop an intervention to improve the quality of life of rural gynecological cancer patients and establish a cancer registry in Ghana.
Priscilla (Priz) Espinosa Tamez, MD is a researcher in the Center for Population Health Research at the National Institute of Public Health in Mexico City, Mexico. Dr. Espinosa received her medical degree at the University of Monterrey in Nuevo Leon, Mexico. As the Manager of the UCSF-Mexico Cancer Collaboration in Mexico, she contributed to the analysis of results of the Mexican National Cancer Institute and the University of Veracruz colorectal cancer screening studies. She managed the study to evaluate the feasibility of colorectal cancer screening in Mexico City, which developed a context-appropriate screening program that aims to overcome barriers at multiple levels. She is a Fulbright-García Robles scholar studying at the University of California, San Francisco in the Ph.D. in Epidemiology and Translational Science. The UCSF Global Cancer Fellowship will support her studies in the design and implementation of context-appropriate screening interventions in the primary care health system in Mexico. 
Lauren Eyler, MD, MPH is a resident physician in General Surgery at UCSF. During the research years of her residency, she is also completing a PhD in Biostatistics at UC Berkeley. Her experience in global health began in medical school at UCSF, when she taught CPR and first aid to community health workers in rural Nicaragua. During her MPH at UC Berkeley, she developed a data-adaptive statistical algorithm and software package to facilitate health disparities research in low- and middle-income countries. Since then, her research has centered on the applications and development of machine learning algorithms for addressing global health problems. During her surgical residency, she became interested in working to decrease disparities in access to breast cancer diagnostics and care in low-resource settings. She joined the UCSF Global Cancer Program Future Global Cancer Leaders Group in 2019 in order to pursue this interest. The UCSF Global Cancer Fellowship will support her work on modeling the potential cost-effectiveness and clinical benefits of scaling up the GeneXpert Breast Cancer Assay for point-of-care biomarker analysis in Eastern Africa.
Sean McClellan, MD is a family physician and fellow in the National Clinician Scholars Program, a health services and health disparities research fellowship. He studies primary care interventions to improve cancer outcomes in vulnerable populations in Mexico and the United States. His prior work has been guided by mentors from the Instituto Nacional de Cancerología and the Instituto Nacional de Geriatría and has included projects investigating efforts to implement screening mammography in Mexico and barriers to treatment among Mexican women with cervical cancer. He sees patients and precepts residents at the Family Health Center at San Francisco General Hospital.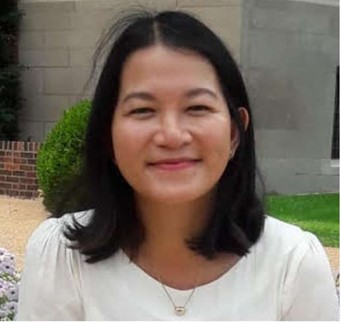 Cham Nguyen, PharmD  received her Doctorate of Pharmacy at Loma Linda University School of Pharmacy in 2010. She completed an ASHP-accredited Acute Care Pharmacy Residency at the University of California San Diego Medical Center followed by PGY2 Oncology Pharmacy Residency at Loma Linda University Medical Center.  She is dual-board certified in oncology and infectious diseases. Her research interest is in quality improvement and patient safety as she is completing her Master's in Healthcare Quality and Patient Safety at Johns Hopkins University. She currently practices at the University of California San Francisco Health, where she is an oncology clinical pharmacist.
Click here to access bios for our previous Global Cancer Fellows.