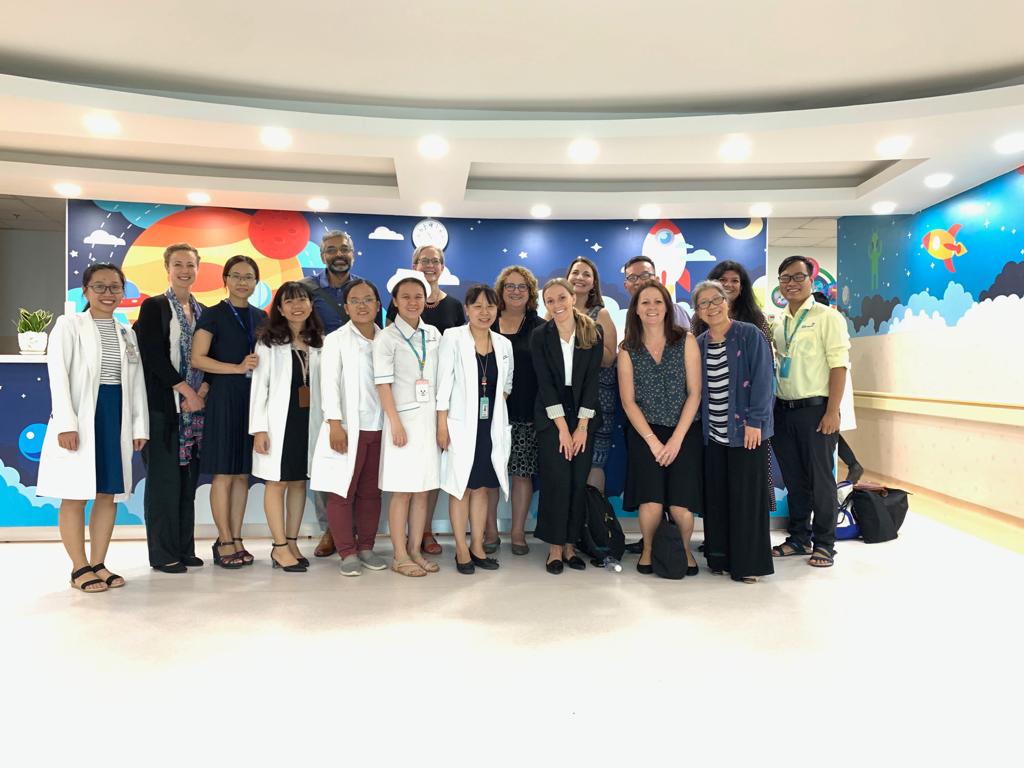 While childhood cancer outcomes have greatly improved in high-income settings, burden and survival remains poor in low- and middle-income countries. Once a uniformly fatal disease, over 80% of children treated with modern therapy will survive in developed countries. However, about 80% of childhood cancer burden and 90% of childhood cancer deaths are concentrated in low- and middle-income countries. While many factors contribute to this heightened burden and subsequently poor outcomes, coordinated regional efforts in LMIC setting have demonstrated that survival may be significantly improved with comprehensive programmatic approaches focused on education, training, research, data management, clinical management, and familial support.
In Vietnam specifically, the childhood cancer survival rate is only approximately 10%. After years of fostering relationships, in 2019, the Global Cancer Program officially partnered with stakeholders in Vietnam to address these key facets of improving pediatric oncology outcomes. To address gaps in education and training for specialized pediatric oncologists, Dr. Michelle Hermiston has led UCSF's collaboration with the University of Medicine and Pharmacy in Ho Chi Minh City to develop the first national pediatric hematology and oncology training program. This curriculum yields a focus for improving research capacity and diagnostic and treatment practices in Vietnam through its collaboration, teaching, and clinical rotations with and in five major hospitals in Ho Chi Minh City. This program aims to become self-sustaining in the coming years upon identification of key leaders from the current cohort of fellows, allowing for the transition and leadership to come out of Vietnam.
To address gaps in data management, UCSF, led by Dr. Anu Agrawal, is working with each of these hospitals to develop and examine the practicality of hospital-based registries to characterize pediatric malignancies. Finally, in order to support appropriate clinical care and patient management, UCSF is partnering with the University of Texas San Antonio to develop and implement a national protocol to treat acute lymphoblastic leukemia (ALL) - the most common form of childhood cancer worldwide. UCSF works with a consortium of stakeholders to accomplish these goals, including Vietnamese policy and hospital leaders, international organizations, and US-based partners in order to coordinate efforts for maximum benefit for children with cancer in Vietnam.